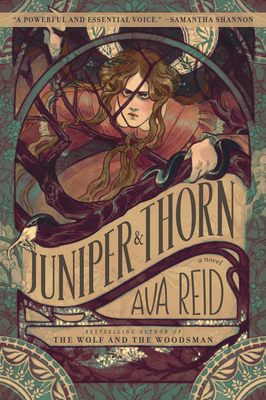 Juniper & Thorn: A Novel
Publication Date:
April 25th, 2023
Publisher:
Harper Voyager
Usually Ships in 1 to 5 Days
A gorgeous story influenced by one of the Brothers Grimm's darkest tales. At the center, two souls find a haven in each other while escaping evil worse than any monster under the bed.Juniper & Thornis bewitching and utterly captivating.
July 2022 Indie Next List
Description
From highly acclaimed, bestselling author Ava Reid comes a gothic horror retelling of The Juniper Tree, set in another time and place within the world of The Wolf and the Woodsman, where a young witch seeks to discover her identity and escape the domination of her abusive wizard father, perfect for fans of Shirley Jackson and Catherynne M. Valente.
A gruesome curse. A city in upheaval. A monster with unquenchable appetites. 
Marlinchen and her two sisters live with their wizard father in a city shifting from magic to industry. As Oblya's last true witches, she and her sisters are little more than a tourist trap as they treat their clients with archaic remedies and beguile them with nostalgic charm. Marlinchen spends her days divining secrets in exchange for rubles and trying to placate her tyrannical, xenophobic father, who keeps his daughters sequestered from the outside world. But at night, Marlinchen and her sisters sneak out to enjoy the city's amenities and revel in its thrills, particularly the recently established ballet theater, where Marlinchen meets a dancer who quickly captures her heart.
As Marlinchen's late-night trysts grow more fervent and frequent, so does the threat of her father's rage and magic. And while Oblya flourishes with culture and bustles with enterprise, a monster lurks in its midst, borne of intolerance and resentment and suffused with old-world power. Caught between history and progress and blood and desire, Marlinchen must draw upon her own magic to keep her city safe and find her place within it.
Praise for Juniper & Thorn: A Novel
"Reid fully embraces the darkness of the original tale while adding enough twists to make the story her own. Grimms' fairy tale fans—and those who like their fairy tales grim—will be thrilled." — Publishers Weekly (starred review)
"The Juniper Tree is as lovely as it is gruesome...Reid twists the familiar magic of fairy tales into gothic horror, telling a powerful story of surviving trauma that doesn't shy away from its ugliness, while giving Marlinchen the agency to carve a better life. Reid's intimate, visceral storytelling, veering at times into body horror, may make this a hard read for some; others will find themselves reflected in its pages with nuanced understanding." — Booklist (starred review)
"Sweeping, emotional descriptions and scenes of tightly wound suspense brings to mind both Eastern European ballet classics such as Stravinsky's "The Firebird" and Tchaikovsky's "Swan Lake" and gothic horror like Shirley Jackson's The Haunting of Hill House—a juxtaposition that makes Juniper & Thorn an utterly compelling read."  — BookPage (starred review)
"Utterly astonishing. This masterful, complex retelling conjures the pure horror of powerlessness as modernity crashes into tradition, and bodies are transformed and consumed. Juniper & Thorn is the dark fairytale brought to perfection: terrible, and true, and full of teeth."
— Shelley Parker-Chan, bestselling author of She Who Became the Sun
"In this baroque Grimm retelling, Reid proves again that theirs is a powerful and essential voice. Through Marlinchen—a layered and unforgettable heroine, brought to life with immense compassion—she tells a tale of fear and survival, hope and yearning and defiance, in timelessly elegant prose. It will enchant you, break your heart, and chill you to the very marrow." — Samantha Shannon, bestselling author of The Priory of the Orange Tree
"This is a dark and bloody tale, full of magic both otherworldly and familiar, and despite its monsters, it reads like comfort. After you read it, you'll start saving space on your shelf for Ava Reid."
— Kendare Blake, #1 NYT bestselling author of Three Dark Crowns
"This riveting, atmospheric dark fantasy unflinchingly explores the disturbing roots of classic fairy tales." — Buzzfeed
"Haunting and great." — Paste Magazine
"Juniper & Thorn is one of my favorite books of the year and I know I'm not alone in that sentiment. Reader after reader has found something in this book that rings true to their heart, resonates with their experience."
— Tor.com
"A gothic masterpiece. Reid weaves threads of unsettling horror and abuse with astonishing empathy."
— Kat Dunn, author of Dangerous Remedy

"I was thoroughly enchanted by Juniper & Thorn, because it felt like the kind of timeless classic that gets at the core issues of being human in a way that seems fantastical, but upon introspection is all too real." — Lightspeed Magazine
"Juniper & Thorn is a Gothic wonder of a novel." — Fantasy & Science Fiction
"Reid expertly weaves a dark and delightful tale that packs a sting. Love, betrayal, and a heroine for our time. I absolutely loved this novel."
— T. L. Huchu, author of The Library of the Dead

"Ava Reid's spellbinding prose will draw you deep into this dark fantasy about three gifted sisters who are trapped by the magic of their wizard father. Thrumming with feminist power, and riveting in its worldbuilding, Juniper & Thorn is an unforgettable tale."
— Ausma Zehanat Khan, author of The Bladebone

"It's haunting and sad, but it makes its way towards hopefulness and love. Ava Reid has a talent for telling these woeful tales in a way that encourages you to look beneath the horror to pull out the messages within." — FanFiAddict