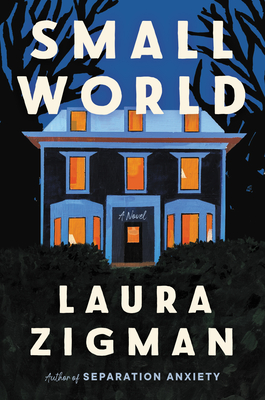 Small World: A Novel
Publication Date:
January 10th, 2023
Red Fern Booksellers
1 on hand, as of Dec 7 2:12pm
(Fiction - General)
On Our Shelves Now
Description
"[A] brave and heartfelt book of truths."—New York Times Book Review (A Group Text Pick and Editors' Choice)
From bestselling author Laura Zigman comes a heartfelt novel about two offbeat and newly divorced sisters who move in together as adults—and finally reckon with their childhood
A year after her divorce, Joyce is settling into being single again. She likes her job archiving family photos and videos, and she's developed a secret comforting hobby: trolling the neighborhood social networking site, Small World, for posts that help solve life's easiest problems. When her older sister, Lydia, also divorced, calls to tell her she's moving back east from Los Angeles after almost thirty years away, Joyce invites Lydia to move into her Cambridge apartment. Temporarily. Just until she finds a place of her own.
But their unlikely cohabitation—not helped by annoying new neighbors upstairs—turns out to be the post-divorce rebound relationship Joyce hadn't planned on. Instead of forging the bond she always dreamed of having with Lydia, their relationship frays. And they rarely discuss the loss of their sister, Eleanor, who was significantly disabled and died when she was only ten years old. When new revelations from their family's history come to light, will those secrets further split them apart, or course correct their connection for the future?
Written with wry humor and keen sensitivity, Small World is a powerful novel of sisterhood and hope—a reminder that sometimes you have to look back in order to move ahead. 
Praise for Small World: A Novel
"The novel is as poignant as it is funny, as thought-provoking as it is witty, and searingly relatable." — Washington Post
"Zigman's tenderly told novel is a realistic rendering of what it's like to care for and love a disabled child, and the toll that love takes on parents and siblings. It's also about the bonds that sisters share and how, in the case of the Mellishmans, unresolved grief nearly breaks them...[but] laced with the promise of a brighter future." — Minneapolis Star Tribune
"Zigman is terrific at melding heartbreaking situations with humorous, evocative details without once veering off into saccharine sentimentality…Zigman's ability to elicit the transformative magic that happens when people find true connection with others makes these pages glow."  — Boston Globe
"A graceful swan dive into the question of how a family rearranges itself after the death of a child…a brave and heartfelt book of truths." — New York Times Book Review
"Zigman's quirky novel confronts the most painful family issues and is equally knowing—and funny—about what brings comfort and grace." — People
"Entrancing. . . . Zigman does a stellar job of creating well-rounded characters, and a satisfying ending tops off her well-crafted paean to sisterhood. Readers will love this." — Publishers Weekly (starred review)
"I absolutely loved Small World -- a wise, warm, and often hilarious exploration of sisterhood and community, set against a nuanced portrait of one family's tragic past." — Shelby Van Pelt, author of Remarkably Bright Creatures
"Like all of Laura Zigman's books, Small World is wryly funny and sharply observed. But this moving story of two adult sisters reconnecting in midlife also tackles some weighty subjects—family secrets, disability, abandonment—with unusual grace and sensitivity."
— Tom Perrotta, author of Tracy Flick Can't Win

"Hilarious, wise, and deeply moving--I loved my time with the Mellishman sisters and didn't want it to end. No one captures the tragicomedies of life quite like Laura Zigman, whose compassion and brilliance shine through on every page." — Mona Awad, author of All's Well and Bunny
"[Zigman] excels at depicting the emotional push and pull of sibling relationships. . . Yet she never loses her sharp sense of humor. . . A compassionate, often funny examination of shared family grief and love." — Kirkus Reviews 
"A tender story of two sisters who, both in midlife and both recently divorced, move in together. . . A moving story about the power of family secrets, sisterhood, and memory. Readers of authors such as Jodi Picoult, Barbara Kingsolver, or Kristin Hannah will be affected by Zigman's skillful and sensitive chronicling of a sisterhood simultaneously affected by the past and finding a new future." — Booklist
"Small World is a treasure: a family story that is wistful one moment, witty and wry the next. Few novelists write as beautifully about the damaged heart and the wounded soul as Laura Zigman, or understand the emotional bonds of siblings and sisters. I loved this novel."
— Chris Bohjalian, #1 New York Times bestselling author of The Flight Attendant and The Lioness
"A profound exploration of the depths and limits of unconditional love, Small World examines what it means to be a mother, a daughter, a sister, a person in the world. By turns hilarious and haunting, this is a novel for the ages." — Joanna Rakoff, author of My Salinger Year
"Abundant humor. . . . Revolving around two middle-aged sisters who have recently been left by their husbands, Small World parses a bramble of secrets, hurts and other mainstays of the all-absorbing kin novel." — Shelf Awareness
"Small World offers a warming tonic against ice and gloom. . . . Zigman writes insightfully of the agonizing push-pull of a family raising a child with severe needs. . . . The book's short, powerful epigraph is 'I came to explore the wreck.' – a line from Adrienne Rich's 'Diving into the Wreck.' Choosing to enter an ancient vessel that has been deeply buried for years takes some courage — kind of like Joyce and Lydia bravely exploring their own history." — WBUR
"A tender, funny novel that proves the smallest stories can have the biggest heart." — The Hollywood Reporter
"A deft writer, Zigman knits this story together like a beautiful scarf." — Lee Woodruff, Book Marks
"Great wit and wisdom permeate Laura Zigman's quirky story..Balancing grief with humor…A delight." — Christian Science Monitor