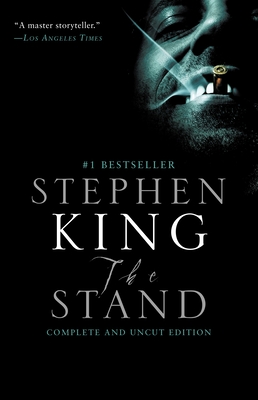 The Stand
Publication Date:
August 7th, 2012
Red Fern Booksellers
1 on hand, as of Dec 7 1:13pm
(Fiction - Horror)
On Our Shelves Now
Description
#1 BESTSELLER • Stephen King's apocalyptic vision of a world blasted by plague and tangled in an elemental struggle between good and evil remains as riveting—and eerily plausible—as when it was first published.
This edition includes all of the new and restored material first published in The Stand: The Complete And Uncut Edition.
A patient escapes from a biological testing facility, unknowingly carrying a deadly weapon: a mutated strain of super-flu that will wipe out 99 percent of the world's population within a few weeks. Those who remain are scared, bewildered, and in need of a leader. Two emerge—Mother Abagail, the benevolent 108-year-old woman who urges them to build a peaceful community in Boulder, Colorado; and Randall Flagg, the nefarious "Dark Man," who delights in chaos and violence. As the dark man and the peaceful woman gather power, the survivors will have to choose between them—and ultimately decide the fate of all humanity.
Also a limited series on CBS All Access
Praise for The Stand
"[The Stand] has everything. Adventure. Romance. Prophecy. Allegory. Satire. Fantasy. Realism. Apocalypse. Great!"
    —The New York Times Book Review
"A master storyteller."
    —Los Angeles Times
"As brilliant a dark dream as has ever been dreamed in this century."
    —Palm Beach Post
"An undisputed master of suspense and terror."
  —The Washington Post
 
"King is one of the most powerful storytellers we have. His work satisfies on first reading and is even better the second time around."
  —Chicago Tribune

"Crackling . . . with explosive climaxes." 
  —The Boston Globe

"[For] those who like their horror on a humongous scale."
  —Los Angeles Times

"Peerless imagination."
  —The Observer (London)