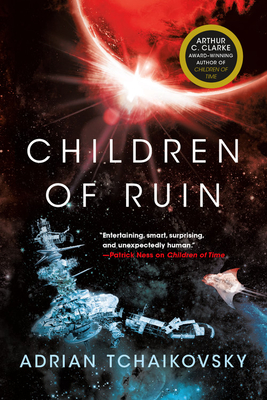 Children of Ruin (Children of Time #2)
Publication Date:
May 14th, 2019
Red Fern Booksellers
1 on hand, as of Dec 7 1:13pm
(Fiction - Science Fiction)
On Our Shelves Now
Description
Winner of the 2023 Hugo Award for Best Series! 
The astonishing sequel to Children of Time, the award-winning novel of humanity's battle for survival on a terraformed planet.
Thousands of years ago, Earth's terraforming program took to the stars. On the world they called Nod, scientists discovered alien life—but it was their mission to overwrite it with the memory of Earth. Then humanity's great empire fell, and the program's decisions were lost to time.
Aeons later, humanity and its new spider allies detected fragmentary radio signals between the stars. They dispatched an exploration vessel, hoping to find cousins from old Earth.
But those ancient terraformers woke something on Nod better left undisturbed.
Praise for Children of Ruin (Children of Time #2)
"Intensely detailed and handily researched, Tchaikovsky's saga creates a deeply immersive narrative."—Booklist
"A novel of sublime plot twists and spectacular set pieces, all underpinned by great ideas. And it is crisply modern - but with the sensibility of classic science fiction. Asimov or Clarke might have written this. A hugely satisfying sequel"—Stephen Baxter
"Magnificent. This is the big stuff -- the really big stuff. Rich in wisdom and Humanity (note the 'H'), with a Stapledonian sweep and grandeur. Books like this are why we read science-fiction."—Ian McDonald
"Children of Ruin is wonderful - big, thinky SF that feels classic without being mired in the past, absolutely crammed with fun ideas. Anyone who likes sweeping, evolutionary-scale stories will love this."—Django Wexler
"Once again, Tchaikovsky performs all the wonders of the first book, while at the same time making some quantum jumps in his sequel ... the underlying message of persisting through misunderstandings, fear, and hatred until harmony and new balances are reached is not just preached, but embodied in thrills both corporeal and intellectual. Tchaikovsky's good sense of pacing and his ability to make arcane scenes and concepts vividly transparent all contribute to a winning tale ... With the guiding spirit of Poul Anderson hovering over his shoulder, and the buttressing work of peers like Vernor Vinge and Paul McAuley standing to either side, Tchaikovsky has made that rare transition from master of fantasy to master of SF."—Locus
"Children of Time is a joy from start to finish. Entertaining, smart, surprising and unexpectedly human."—Patrick Ness
"Brilliant science fiction and far out world building."—James McAvoy on Children of Time
"A refreshingly new take on post-dystopia civilizations, with the smartest evolutionary worldbuilding you'll ever read."
—Peter F Hamilton on Children of Time
"Like a Stephen Baxter novel with an epic sweep of history (see his Evolution, for example), added to a broad cast of a Peter Hamilton Space Opera and the narrative drive of, say, a David Brin or a Greg Bear old style SF novel, Children of Time soon got me hooked."—SFF World on Children of Time
"Children of Time has that essence of the classic science fiction novels, that sense of wonder and unfettered imagination but combined with this is the charm of a writer who really knows how to entertain, how to spin a good story. Essential science fiction, a book not to be missed."
—SF Book on Children of Time
"The novel's clever interrogation of the usual narrative of planetary conquest, and its thoughtful depiction of two alien civilisations attempting to understand each other, is an exemplar of classic widescreen science fiction."—New Scientist on Children of Time
"This is superior stuff, tackling big themes - gods, messiahs, artificial intelligence, alienness - with brio."—Financial Times on Children of Time
"An entertaining and thought provoking novel of post humanity, survival and legacy."—SF Signal on Children of Time
"Tchaikovsky's prose is superb, and his world building was exceptional, brilliantly realized on the page, and both fascinating and original."—Civilian Reader on Children of Time