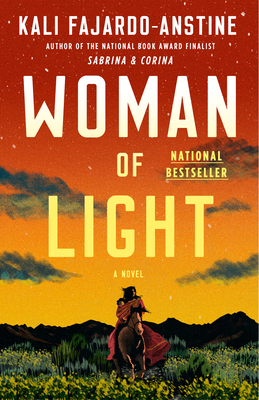 Woman of Light: A Novel
Publication Date:
April 18th, 2023
Usually Ships in 1 to 5 Days
Woman of Lightis a beautifully written story of unity, adversity, and the struggles of the Lopez family in the 1920s and 1930s. Perfectly connecting the past and present up to a meeting point for the family. I 100% recommend this book!
June 2022 Indie Next List
Description
NATIONAL BESTSELLER • A "dazzling, cinematic, intimate, lyrical" (Roxane Gay) epic of betrayal, love, and fate that spans five generations of an Indigenous Chicano family in the American West, from the author of the National Book Award finalist Sabrina & Corina
 
"Sometimes you just step into a book and let it wash over you, like you're swimming under a big, sparkling night sky."—Celeste Ng, author of Little Fires Everywhere and Everything I Never Told You
 
A PHENOMENAL BOOK CLUB PICK AND AN AUDACIOUS BOOK CLUB PICK • ONE OF THE BEST BOOKS OF THE YEAR: Book Riot
There is one every generation, a seer who keeps the stories.

Luz "Little Light" Lopez, a tea leaf reader and laundress, is left to fend for herself after her older brother, Diego, a snake charmer and factory worker, is run out of town by a violent white mob. As Luz navigates 1930s Denver, she begins to have visions that transport her to her Indigenous homeland in the nearby Lost Territory. Luz recollects her ancestors' origins, how her family flourished, and how they were threatened. She bears witness to the sinister forces that have devastated her people and their homelands for generations. In the end, it is up to Luz to save her family stories from disappearing into oblivion.
Written in Kali Fajardo-Anstine's singular voice, the wildly entertaining and complex lives of the Lopez family fill the pages of this multigenerational western saga. Woman of Light is a transfixing novel about survival, family secrets, and love—filled with an unforgettable cast of characters, all of whom are just as special, memorable, and complicated as our beloved heroine, Luz.
LONGLISTED FOR THE JOYCE CAROL OATES PRIZE • LONGLISTED FOR THE CAROL SHIELDS PRIZE FOR FICTION
Praise for Woman of Light: A Novel
"Fajardo-Anstine's storytelling is absolutely engrossing."—Shondaland
"A transporting story of the importance of family history told in a luminescent style."—Good Housekeeping
"An intimate and intensely moving story. Fajardo-Anstine's lyrical, unpretentious prose renders the generations of women of this story in all of their complexity, offering a nuanced perspective on how the past can inform the future . . . Fajardo-Anstine . . . is a formidable, necessary voice in fiction."—Taylor Jenkins Reid, author of Malibu Rising

"This novel is indelible, and shines its big light on the Lopez family so brightly that I could draw a map of their breath. . . . An absolutely glorious novel."—Emma Straub, author of All Adults Here
"Fajardo-Anstine brings to life in sensory-rich details . . . a lush, immersive historical novel."—Kirkus Reviews
"An entrancing book about the stories we carry, the ones we need to keep telling. Fajardo-Anstine has given us another stunning cast of characters to root for."—Lithub
"A novel with vast reach."—Electric Lit
"Sometimes you just step into a book and let it wash over you, like you're swimming under a big, sparkling night sky."—Celeste Ng, author of Little Fires Everywhere and Everything I Never Told You
"An unparalleled generational saga . . . one of the most potent voices in contemporary Latino and Native American literature."—BeLatina
"A classic legendary Latinx story and a punch that says [Fajardo-Anstine] can square up with any contemporary writer. Quite literally . . . she can do it all."—Lupita Reads
"There are no other words to describe Fajardo-Anstine's Woman of Light; a brilliant conflagration of a story that opens the eyes and inflames the heart."—Craig Johnson, author of the Longmire series
"A cinematic, epic story. Kali Fajardo-Anstine brings her keen understanding of desire, vulnerability, and destiny to this gorgeous reclaiming of lost history."—Mira Jacob, author of Good Talk
"Fajardo-Anstine has the power to accurately express the joy and sadness in a person's life, their history, how the world comes into contact with us, and how we come into contact with the world. . . . Captivating."—Mieko Kawakami, author of Breasts and Eggs
"A rare and wondrous kind of novel that assembles the universe from mere words, whose unforgettable characters haunt like long shadows in the southwestern light."—Gary Shteyngart, author of Lake Success
"Impossible to put down . . . Fajardo-Anstine's compelling writing paints a convincing portrait of a city in flux, haunted by white violence, and portrays a complex female friendship, a vivid love story (or three), and a story of family and memory in the American West."—Booklist