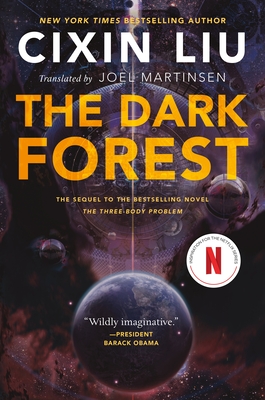 The Dark Forest (The Three-Body Problem Series #2)
Publication Date:
August 16th, 2016
Red Fern Booksellers
1 on hand, as of Dec 7 1:13pm
(Fiction - Science Fiction)
On Our Shelves Now
Description
Soon to be a Netflix Original Series!
"Wildly imaginative." —President Barack Obama on The Three-Body Problem trilogy
This near-future trilogy is the first chance for English-speaking readers to experience this multiple-award-winning phenomenon from Cixin Liu, China's most beloved science fiction author.
In The Dark Forest, Earth is reeling from the revelation of a coming alien invasion-in just four centuries' time. The aliens' human collaborators may have been defeated, but the presence of the sophons, the subatomic particles that allow Trisolaris instant access to all human information, means that Earth's defense plans are totally exposed to the enemy. Only the human mind remains a secret. This is the motivation for the Wallfacer Project, a daring plan that grants four men enormous resources to design secret strategies, hidden through deceit and misdirection from Earth and Trisolaris alike. Three of the Wallfacers are influential statesmen and scientists, but the fourth is a total unknown. Luo Ji, an unambitious Chinese astronomer and sociologist, is baffled by his new status. All he knows is that he's the one Wallfacer that Trisolaris wants dead.
The Three-Body Problem Series
The Three-Body Problem
The Dark Forest
Death's End
Other Books
Ball Lightning
Supernova Era
To Hold Up The Sky (forthcoming)
Praise for The Dark Forest (The Three-Body Problem Series #2)
"Wildly imaginative, really interesting." —President Barack Obama on the Three-Body Problem trilogy
"A breakthrough book . . . a unique blend of scientific and philosophical speculation, politics and history, conspiracy theory and cosmology." —George R. R. Martin, on The Three Body Problem
"Extraordinary." —The New Yorker, on The Three Body Problem
"Remarkable, revelatory and not to be missed." —Kirkus Reviews, starred review, on The Three Body Problem
"A must-read in any language." —Booklist, on The Three Body Problem
"A meditation on technology, progress, morality, extinction, and knowledge that doubles as a cosmos-in-the-balance thriller.... a testament to just how far [Liu's] own towering imagination has taken him: Far beyond the borders of his country, and forever into the canon of science fiction. - NPR, on Death's End
"The best kind of science fiction, familiar but strange all at the same time." -- Kim Stanley Robinson, on The Three Body Problem