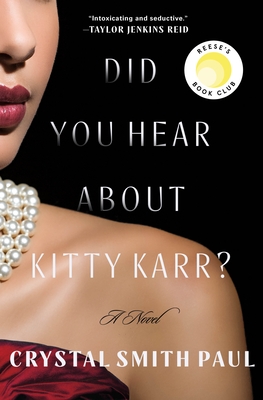 Did You Hear About Kitty Karr?: A Novel
Publication Date:
May 2nd, 2023
Publisher:
Henry Holt and Co.
Red Fern Booksellers
2 on hand, as of Dec 7 2:12pm
(Fiction - General)
On Our Shelves Now
Description
REESE'S BOOK CLUB MAY 2023 PICK
BOOK OF THE MONTH MAY 2023 PICK
A multigenerational saga that traverses the glamour of old Hollywood and the seductive draw of modern-day showbiz
When Kitty Karr Tate, a White icon of the silver screen, dies and bequeaths her multimillion-dollar estate to the St. John sisters, three young, wealthy Black women, it prompts questions. Lots of questions.
A celebrity in her own right, Elise St. John would rather focus on sorting out Kitty's affairs than deal with the press. But what she discovers in one of Kitty's journals rocks her world harder than any other brewing scandal could—and between a cheating fiancé and the fallout from a controversial social media post, there are plenty.
The truth behind Kitty's ascent to stardom from her beginnings in the segregated South threatens to expose a web of unexpected family ties, debts owed, and debatable crimes that could, with one pull, unravel the all-American fabric of the St. John sisters and those closest to them.
As Elise digs deeper into Kitty's past, she must also turn the lens upon herself, confronting the gifts and burdens of her own choices and the power that the secrets of the dead hold over the living. Did You Hear About Kitty Karr? is a sprawling page-turner set against the backdrop of the Hollywood machine, an insightful and nuanced look at the inheritances of family, race, and gender—and the choices some women make to break free of them.
Praise for Did You Hear About Kitty Karr?: A Novel
REESE'S BOOK CLUB MAY 2023 PICK
BOOK OF THE MONTH MAY 2023 PICK
Named one of the Chicago Public Library's Best Books of 2023
The Root, "May 2023 Books By Black Authors We Can't Wait to Read"
POPSUGAR, "47 New Mystery Books That'll Have You on the Edge of Your Seat"
Book Riot, "12 Book Clubs' Excellent Picks for May 2023"
ELLE, "The 20 Best Mystery Books to Read for Your Inner Sleuth"
"Did You Hear About Kitty Karr? is an intoxicating and seductive debut, drawing you into an underground Hollywood world that is as glamorous as it is dangerous. Kitty Karr is an iconoclastic, complicated, and fascinating woman, whose legacy is as relevant as ever today. Crystal Smith Paul is a thrilling new voice in fiction and I cannot wait to see what she does next."
—Taylor Jenkins Reid, bestselling author of The Seven Husbands of Evelyn Hugo and Carrie Soto Is Back
"An ambitious novel, illuminating the complexities of racial identity, particularly what it means to be Black in Hollywood no matter the era. It's the kind of book that makes you want to know more about Hollywood's hidden history."
—New York Times Book Review
"Propulsive and entertaining, with broad historical relevance and critical cultural significance, this is the uniquely American story we all need to read—it holds a piece of all of us. I absolutely loved it and will be looking forward to more from Crystal Smith Paul."
—Jayne Allen, bestselling author of Black Girls Must Die Exhausted
"An engrossing saga, Did You Hear About Kitty Karr? explores the heartbreaking sacrifices that one woman must make in order to succeed in the Golden Age of Hollywood—and the way in which her difficult choices echo throughout later generations. Crystal Smith Paul's debut about family, celebrity, and racism—both historic and modern—captivates."
—Marie Benedict, bestselling author of The Mitford Affair and coauthor of The Personal Librarian
"The witty and sensational Did You Hear About Kitty Karr? marks Crystal Smith Paul as a brilliant new talent to watch."
—Kalisha Buckhanon, bestselling author of Speaking of Summer and Running to Fall
"A compelling odyssey into the consequences our choices can have across history and generations, the moral complexities of those choices, and the devastating secrets hidden behind even the most glamorous and opulent of lives and the most 'pristine' family trees. An immensely entertaining debut."
—Christine Pride, coauthor of We Are Not Like Them
"Paul's debut is a riveting, often heartbreaking tale that explores race, privilege, and celebrity in America through the eyes of a one-of-a-kind character. Readers of Taylor Jenkins Reid and Piper Huguley will be enthralled."
—Booklist, starred review
"Paul's sprawling multigenerational debut hits the ground running with a peek at the complicated family life of an iconic, privacy-seeking clan of Hollywood stars: the St. Johns. . . . With a plot worthy of a miniseries, an extensive cast, and a historical sweep, Paul succeeds in entertaining as well as enlightening."
—Kirkus Reviews
"Paul's novel highlights the burden and loss of racism by focusing on the color line and passing."
—Library Journal
"[U]nflinchingly details the racism, misogyny, and exploitation Kitty faced as a young woman."
—Publishers Weekly
"The characters and the twists and turns of their lives kept me turning the pages to the end. This is one that readers will be talking about for a long time. I loved every page."
—Victoria Christopher Murray, bestselling coauthor of The Personal Librarian and author of more than 30 novels