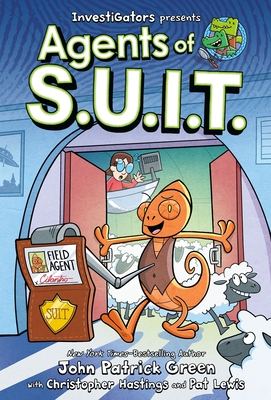 InvestiGators: Agents of S.U.I.T.
Publication Date:
February 21st, 2023
Red Fern Booksellers
1 on hand, as of Dec 7 1:13pm
(Children's Books/Ages 9-12 Graphic Novels)
On Our Shelves Now
Description
InvestiGators fans, rejoice! Get ready to dive into the first volume of AGENTS OF S.U.I.T., featuring the weird and wacky co-workers of everyone's favorite sewer-sleuthing super-agents, Mango and Brash!

At S.U.I.T. headquarters, Cilantro the Chameleon finally gets what she's been waiting for: a field assignment. Only…it's literally out in the middle of a field, and her orders are so vague, she can hardly tell what she's supposed to be investigating. But as she begins to uncover a sheep-led worker's rights revolt and an alien invasion conspiracy—not to mention a spooky haunting at the abandoned S.U.I.T. field outpost—Cilantro steps into her own V.E.S.T. as a valued member of the S.U.I.T. team. From InvestiGators mastermind John Patrick Green, the world of S.U.I.T. has never been more fun!
About the Author
John Patrick Green is a human with the human job of making books about animals with human jobs, notably the smash-hit graphic novel series InvestiGators. John is definitely a multiple New York Times-bestselling human author and not just a bunch of animals in a trench coat pretending to have a human job. With over a million copies of InvestiGators in print, John is a successful human being with only two hands and a normal amount of fur. He lives in a Brooklyn apartment that doesn't allow animals other than the ones living in his head.
Christopher Hastings is a comics writer best known for creating the award-winning Adventures of Dr. McNinja and co-creating The Unbelievable Gwenpool. His other writing credits include Adventure Time, Deadpool, Quantum & Woody, and NYT-bestselling graphic novel adaptation of Five Nights at Freddy's: The Twisted Ones. Christopher also voices Frederick de Bonesby for the narrative play podcast Rude Tales of Magic.
Pat Lewis is a freelance cartoonist/illustrator who lives in Pittsburgh, PA with his wife and two cats. His artwork has appeared in magazines such as Highlights for Children and Boys' Life, as well as books by Workman Publishing, Macmillan and McGraw-Hill. Some of his favorite things in this world are: flea markets, road trips, monster movies and snack-bar nachos. Oh, and drawing funny pictures for kids and adults.