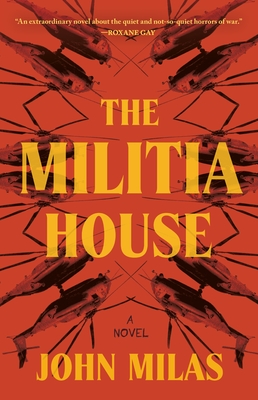 The Militia House: A Novel
Publication Date:
July 11th, 2023
Publisher:
Henry Holt and Co.
Red Fern Booksellers
1 on hand, as of Dec 7 2:12pm
(Fiction - Espionage / Thriller)
On Our Shelves Now
The Militia Houseensnares the reader in its unsettling atmosphere. The commentary around the military industrial complex and PTSD is subtle, casting a critical eye that never fully dives into polemic. A wild, immersive ride.
July 2023 Indie Next List
Description
Longlisted for The Center for Fiction's First Novel Prize

"An extraordinary novel about the quiet and not so quiet horrors of war." —Roxane Gay
Stephen King meets Tim O'Brien in John Milas's The Militia House, a spine-tingling and boldly original gothic horror novel.
It's 2010, and the recently promoted Corporal Loyette and his unit are finishing up their deployment at a new base in Kajaki, Afghanistan. Their duties here are straightforward—loading and unloading cargo into and out of helicopters—and their days are a mix of boredom and dread. The Brits they're replacing delight in telling them the history of the old barracks just off base, a Soviet-era militia house they claim is haunted, and Loyette and his men don't need much convincing to make a clandestine trip outside the wire to explore it.
It's a short, middle-of-the-day adventure, but the men experience a mounting agitation after their visit to the militia house. In the days that follow they try to forget about the strange, unsettling sights and sounds from the house, but things are increasingly . . . not right. Loyette becomes determined to ignore his and his marines' growing unease, convinced that it's just the strain of war playing tricks on them. But something about the militia house will not let them go.
Meticulously plotted and viscerally immediate in its telling, The Militia House is a gripping and brilliant exploration of the unceasing horrors of war that's no more easily shaken than the militia house itself.
Praise for The Militia House: A Novel
A Roxane Gay Book Club Pick
An Indie Next Pick for July 2023
"Milas's prose is laconic and wise, writing that gives it to you straight. At times Loyette's voice is so frank and revealing, it sounds nearly confessional. Through it we get the stark admissions of a mind bruised by war and its terrifying secrets, encapsulated here by a classic horror device: the haunted house."
—Daniel Woodrell, The New York Times Book Review

"Milas is a wordsmith, and this novel is as haunting as it is impressive."
—CrimeReads, "Most Anticipated Crime Fiction of Summer 2023"
"Horror debuts don't come much more impressive than this unsettling offering from Milas...Milas is brilliant at making his lead's eerie experiences and surreal hallucinations vivid, scary, and psychologically nuanced."
—Publishers Weekly (starred review)
"Q: What happens when the fog of war gets inside one's head? A: The military novel gone gothic....Milas nimbly and delicately balances the book between genres: It would be a relief for Loyette, and for the reader, if we could classify it—label it, defang it—as horror rather than having, agonizingly, to view it as a realistic portrait of a war-damaged mind collapsing in on itself."
—Kirkus
"This is a beautiful horror story told masterfully and elegantly. It is a brilliant, different kind of war novel, one that reveals the insidious ways the violences of war can tear people apart from the inside out."
—Roxane Gay, New York Times bestselling author of Hunger: A Memoir of (My) Body
"A page-turner that is also a searing, gut-wrenching, literally haunting portrait of war and military allure, with its endless mirages and trap doors. I'll never stop thinking about The Militia House."
—Gabriela Garcia, New York Times bestselling author of Of Women and Salt
"It's not enough to say that The Militia House is one of the great haunted house stories of this century. In his startling and aching portrait of American soldiers in Afghanistan, John Milas takes us deep into the psychological damage of war that these young people carry with them. This is an indelible first novel--terrifying and heart-rending, full of scenes and images that will linger for long afterward."
—Dan Chaon, author of Sleepwalk
"I was floored from the very first page of The Militia House. Milas takes the absurdity of war and plants a haunted house tale in its heart. The result is terrifying and uncanny, with an ending so devastating that it felt like those final pages took a piece of me with them."
—Gus Moreno, author of This Thing Between Us
"The Militia House is a stunningly original examination of the enduring darkness not just in humanity's capacity for war but in our very souls. In these times particularly, this is a book that speaks importantly to us all."
—Robert Olen Butler, Pulitzer Prize-winning author of A Good Scent from a Strange Mountain
"The Militia House seamlessly joins war and horror, reminding me of something Ambrose Bierce might have written, had he been born a Millennial, just as bleak, twice as earnest, and done a deployment with the U.S. Marines in Southwest Asia. This is not the bloodiest Afghanistan war novel I have read, but the most unsettling."
—Brian Van Reet, author of Spoils
"Dear Reader, prepare to scream inside your heart. This is a haunting, soulful, and beautifully disturbing novel about the psychological toll of serving in modern war. Speaks to the horror and personal abyss of young people in uniform stepping into history and taking up arms in a foreign land. John Milas is like Tim O'Brien and Edgar Allen Poe writing Rod Serling's The Twilight Zone. Timely and timeless, this book is both a swashbuckling adventure tale of Marines at war who encounter a haunted house and a piercing work of art. Catch-22 but make it horror."
—Gabe Hudson, author of Dear Mr. President