Discounted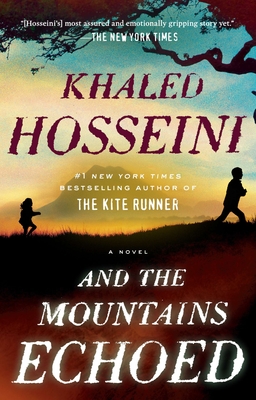 And the Mountains Echoed
Previous price:

$18.00
Current price:

$17.00
Publication Date:
June 3rd, 2014
Publisher:
Riverhead Books
Red Fern Booksellers
1 on hand, as of Dec 7 2:12pm
(Fiction - General)
On Our Shelves Now
Spanning decades, continents, and generations, Hosseini's latest exquisite novel resembles a colorful tapestry, a seamlessly woven tale of sisters, brothers, mothers, and fathers, and the unbreakable bonds between them. The story of each character individually is compelling, but they are interconnected so beautifully that they burst with emotion. The fluid prose that defined Hosseini's previous novels is even more passionate and thought-provoking in this highly anticipated work. I cannot think of another writer or novel that so artfully balances moments of profound loss and sacrifice with such poignant images of beauty and grace.
June 2013 Indie Next List
Description
An unforgettable novel about finding a lost piece of yourself in someone else.
Khaled Hosseini, the #1 New York Times–bestselling author of The Kite Runner and A Thousand Splendid Suns, has written a new novel about how we love, how we take care of one another, and how the choices we make resonate through generations. In this tale revolving around not just parents and children but brothers and sisters, cousins and caretakers, Hosseini explores the many ways in which families nurture, wound, betray, honor, and sacrifice for one another; and how often we are surprised by the actions of those closest to us, at the times that matter most. Following its characters and the ramifications of their lives and choices and loves around the globe—from Kabul to Paris to San Francisco to the Greek island of Tinos—the story expands gradually outward, becoming more emotionally complex and powerful with each turning page.
Praise for And the Mountains Echoed
"[Hosseini's] most assured and emotionally gripping story yet . . . Hosseini's narrative gifts have deepened over the years. . . . [And the Mountains Echoed] grapples with many of the same themes that crisscross his early novels: the relationship between parents and children, and the ways the past can haunt the present. And it shares a similar penchant for mapping terrain midway between the boldly colored world of fable and the more shadowy, shaded world of realism… [W]e finish this novel with an intimate understanding of who his characters are and how they've defined themselves over the years through the choices they have made between duty and freedom, familial responsibilities and independence, loyalty to home and exile abroad… a deeply affecting choral work… a testament both to his intimate knowledge of their inner lives, and to his power as an old-fashioned storyteller. "—Michiko Kakutani, The New York Times
"The Kite Runner author's latest is a moving saga about sacrifice, betrayal, and the power of family. . . . More expansive than The Kite Runner and A Thousand Splendid Suns, the novel spans three generations and includes overlapping tales of expatriates and aid workers, parents and children, doctors and drug lords. Hosseini shows how easy it is for people to brutalize or abandon those they should protect. But his ultimate achievement is demonstrating the power and persistence of family."—People (4 stars)
"[Hosseini's] beautifully written, masterfully crafted new book, And the Mountains Echoed, spans nearly 60 years of Afghan history as it investigates the consequences of a desperate act that scars two young lives and resonates through many others. . . . And the Mountains Echoed is painfully sad but also radiant with love: the enduring bond of a brother and sister; the irritable but bedrock connection of cousins; the quiet intimacy of master and servant who become friends; the commitment of a doctor and nurse to war's victims. To underscore love's centrality and contingency, Hosseini closes with an image drawn from a dream: a snapshot of bygone happiness all the more precious in retrospect because we know how fragile it is."—Los Angles Times
"And the Mountains Echoed opens like a thunderclap. . . . [Hosseini] asks good, hard questions about the limits of love. . . . Love, Hosseini seems to say, is the great leveler, cutting through language, class, and identity.  No one in this gripping novel is immune to its impact."—O, the Oprah Magazine
"With his third and most ambitious novel yet, Hosseini makes it clear that he's not ready to rest on his Big Name. . . . While it hits all the Hosseini sweet spots—nostalgia, devastating details, triumph over the odds—And the Mountains Echoed covers more ground, both geographically and emotionally, than his previous works. It's not until Hosseini makes the novel small again, for the poignant conclusion, that you fully appreciate what he's accomplished."—Entertainment Weekly (A)
"I'm not an easy touch when it comes to novels, but Hosseini's new book, And the Mountains Echoed, had tears dropping from my eyes by Page 45. . . . It's hard to do justice to a novel this rich in a short review. There are a dozen things I still want to say — about the rhyming pairs of characters, the echoing situations, the varied takes on honesty, loneliness, beauty and poverty, the transformation of emotions into physical ailments. Instead, I'll just add this: Send Hosseini up the bestseller list again."—Washington Post
"The genius of Khaled Hosseini's novels—including his best-selling The Kite Runner and A Thousand Splendid Suns, as well as his latest, the masterly And the Mountains Echoed—is that they pull off the neat trick of embodying and transcending the essence of a place. . . . This is an exquisite novel, a must-read for anyone with an interest in what it means to be alive, anywhere and everywhere."—USA Today
"There is an assured, charismatic new maturity to Hosseini's voice. When he hits his stride, the results are electrifying."—San Francico Chronicle
"Hosseini delves into the joys, sorrows, and betrayals that alternately bind and fracture families. Once again, Hosseini's lovingly rendered Afghanistan takes center stage, but in this book he extends his examination to encompass how the Afghan identity affects his characters' decisions and lives in unfamiliar environments."—Boston Globe
"Compulsively readable, in large part because [Hosseini] probes his characters' psyches in a nuanced and poetic manner . . . And the Mountains Echoed attains a greater level of complexity than its two predecessors . . . and signals the ongoing maturation of a gifted storyteller."—The Miami Herald
"Hosseini . . . is back with his beautiful, often harrowing third novel, And the Mountains Echoed."—Chicago Tribune
 
"My main goal in reading Khaled Hosseini's new book, And the Mountains Echoed, was to avoid crying. I failed within the first 20 pages. And by the last page, I was bawling. So, yes, much like Hosseini's earlier works, The Kite Runner and A Thousand Splendid Suns, his latest book is bathed in sadness and despair, with the requisite occasional ray of hope. Much like those other two books, And the Mountains Echoed is powerful and haunting. And much like the country it describes, it is not easy to forget. . . . You won't be able to put it down. To those readers who manage to get through it without shedding a tear, well, I tip my hat."—Associated Press
"Wrought with mastery, And the Mountains Echoed is not just a well spun tale, but an accomplishment of the most elusive of literary challenges—the humanization of a war ravaged population in the eyes of the very people complicit in their ruin."—Daily Beast
"Haunting."—Houston Chronicle
 
"The story that Khaled Hosseini tells in And the Mountains Echoed is one of loss and love—in that order. At its heart, this tale spells out what happens when a brother and sister are torn apart as children—a father's choice to do what he hopes is the right thing. . . . Hosseini masterfully moves the story between Afghanistan and Paris, with side trips to the United States and Greece. . . . It's only toward the end of this beautiful tale of family that Hosseini reveals more about Abdullah, still devoted to his long-gone sister and still, somehow, hoping they will be reunited.  ' "She was perfect," he would say.' The same might be said of this novel. It's nearly perfect just as it is."—St. Louis Post Dispatch
"Transports you whole into the otherworldly realms Hosseini builds in Kabul, Paris, San Francisco, and the Greek islands. . . . There's something primary and beautiful about the simple desire to get lost in a story, and Hosseini is an expert manufacturer of that experience."—Harper's Bazaar
"Sprawling family saga."—Vanity Fair
"Ambitiously expansive."—Vogue
"Like a sculptor working in a soft medium, [Hosseini] gently molds and shapes individual pieces that ultimately fit together in a major work. . . . Family matters in ways small and large in this novel. Whether or not the connections are visible, they exist nevertheless. Hosseini seems to be telling us that the way we care is who we are and, ultimately, the face we show to life."—New York Daily News
"Readers' tears may fall by first chapter's end . . . Introspective and perfectly paced, Hosseini's microcosmic plot spares no expense with sensory details. Each character . . . captivates. Hosseini skillfully weaves the tapestry with universal elements: human fallibility, innate goodness, perseverance, forgiveness, sexuality, jealousy, companionship, and joy. Yet his words are never sugarcoated: The brutality of life is on display, and people are shown just as they are, for better or worse. Poverty and gender roles leave scars, while shifting points of view reveal Hosseini's prism of truth. The heartbreaks are not intended for shock value, but they do linger. And the Mountains Echoed resonates to the core."—Austin Chronicle
"Like [Hosseini's] previous books, the new novel is a complex mosaic, a portrait of the Afghan diaspora as it is folded into the West and of those left behind. . . . The book is elevated by a strong sense of parable and some finely drawn characters and is inventively constructed as it leaps from voice to voice."—Esquire
"Early reviews are in and they've confirmed what we've known all along: Khaled Hosseini's latest novel, And the Mountains Echoed, is a hit. It's also a surprisingly nuanced, morally complex, exquisitely told tear-jerker."—Christian Science Monitor
 
"Hosseini returns with an instantly relatable novel that follows generations of a troubled family across the Middle East."—Marie Claire
"The beautiful writing, full of universal truths of loss and identity, makes each section a jewel . . . Hosseini's eye for detail and emotional geography makes this a haunting read."—Publishers Weekly
"Captivating and affecting . . . A masterful and compassionate storyteller, Hosseini traces the traumas and scarring of tyranny, war, crime, lies, and illness in the intricately interconnected, heartbreaking, and transcendent lives of his vibrantly realized characters to create a grand and encompassing tree of life."—Booklist (starred review)
"Hosseini weaves a gorgeous tapestry of disparate characters joined by threads of blood and fate. . . . In this uplifting and deeply satisfying book, Hosseini displays an optimism not so obvious in his previous works. Readers will be clamoring for it."—Library Journal (starred review)
"In And the Mountains Echoed, Khaled Hosseini presents a multitude of windows into the souls affected by these events. The novel's rich kaleidoscope of images coalesces around one theme: the powerful and often excruciating legacy of family ties within the maelstrom of history."—Shelf Awareness
"Fiction Top Pick . . . Engrossing . . . Ultimately, And the Mountains Echoed is about the human endeavor to transcend difference."—Bookpage 
 
And the Mountains Echoed, is a hit. It's also a surprisingly nuanced, morally complex, exquisitely told tear-jerker."—Christian Science Monitor
"The beautiful writing, full of universal truths of loss and identity, makes each section a jewel . . . Hosseini's eye for detail and emotional geography makes this a haunting read."—Publishers Weekly
"Captivating and affecting . . . A masterful and compassionate storyteller, Hosseini traces the traumas and scarring of tyranny, war, crime, lies, and illness in the intricately interconnected, heartbreaking, and transcendent lives of his vibrantly realized characters to create a grand and encompassing tree of life."—Booklist (starred review)
"Hosseini weaves a gorgeous tapestry of disparate characters joined by threads of blood and fate. . . . In this uplifting and deeply satisfying book, Hosseini displays an optimism not so obvious in his previous works. Readers will be clamoring for it."—Library Journal (starred review)
"In And the Mountains Echoed, Khaled Hosseini presents a multitude of windows into the souls affected by these events. The novel's rich kaleidoscope of images coalesces around one theme: the powerful and often excruciating legacy of family ties within the maelstrom of history."—Shelf Awareness
"Fiction Top Pick . . . Engrossing . . . Ultimately, And the Mountains Echoed is about the human endeavor to transcend difference."—Bookpage