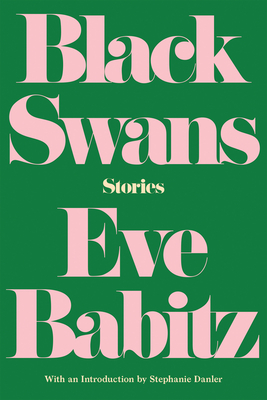 Black Swans: Stories
Publication Date:
April 10th, 2018
Red Fern Booksellers
1 on hand, as of Dec 7 1:13pm
(Nonfiction)
On Our Shelves Now
Description
"Babitz's talent for the brilliant line, honed to a point, never interferes with her feel for languid pleasures." —The New York Times Book Review
A new reissue of Babitz's collection of nine stories that look back on the 1980s and early 1990s—decades of dreams, drink, and glimpses of a changing world. Black Swans further celebrates the phenomenon of Eve Babitz, cementing her reputation as the voice of a generation.
With an introduction by Stephanie Danler, bestselling author of Sweetbitter.
"On the page, Babitz is pure pleasure—a perpetual–motion machine of no–stakes elation and champagne fizz." —The New Yorker

Praise for Black Swans: Stories
"Babitz's talent for the brilliant line, honed to a point, never interferes with her feel for languid pleasures." —The New York Times Book Review
"On the page, Babitz is pure pleasure—a perpetual–motion machine of no–stakes elation and champagne fizz." —The New Yorker
"She's a natural. Or gives every appearance of being one, her writing elevated yet slangy, bright, bouncy, cheerfully hedonistic—L.A. in it purest, most idealized form." —Vanity Fair
"[A] true original." —The Boston Globe
"Black Swans, originally out in 1993 and reissued this year, is the best example of what makes her writing so essential. The discursive nature of her short stories allows her narratives to move in tandem with the sociopolitical issues she is constantly and effectively addressing. It's a model for writing fiction that addresses politics that feels neither didactic nor preachy but natural. This is the product of the autobiographical style of her writing which often has a texture more similar to personal nonfiction than fiction, which makes conversations about contemporary events feel naturally woven into her world . . . When Babitz's stories engage with politics, they're focused on demonstrating how her characters would engage, and the good and bad that comes with it. It restricts their polemical efficacy and narrows their scope but takes away the awkward tinge that other fiction so dedicated to making a point can have. On top of all this, of course, Babitz is one of the most wonderful American prose stylists. Every page is littered with perfectly critical, funny, and illuminating sentences it seems only she could write . . . Nobody saw — or sees — the world as Babitz does, its glitz alongside what had to be scraped off to make it shine. Throughout Black Swans, she writes with ease about how the social and political impact both the people who are around here and the people who aren't. It'd be a boon for fiction writing if more writers could manifest this, too." —Bradley Babendir, Medium
"[Babitz's] recent renaissance, like her writing, has been both propulsive and rapturous . . . This April, Counterpoint Press released Black Swans (1993), a wistful collection of nine autobiographical tales from the 1980s and '90s. By then, Babitz's tidal pull—sumptuous prose organized into vignettes of hedonism without the weight of moral consequence—had lassoed the attention of bookish women, and, seemingly, everyone else too . . . What's captivating about Babitz's particular mode of confession is that it's anchored by an intuition that renders her environs both so enchanted and familiar. And her irreverence in the face of persistent expectations of feminine decorum—reanimated like a sociocultural zombie during this administration—can cause a sigh of relief . . . Babitz is sensitive to [Los Angeles's] fundamental contradictions. Namely, its preoccupation with contrived beauty and glitz and its vulnerability to nature's impositions: the hot gale winds of the Santa Anas, the earthquakes, and the fires. Her wholesale embrace of what is lovely and dangerous and absurd about Los Angeles appeals to contemporary readers. After all, the world Babitz depicts in her books of women roaming its streets and weighing their impulses very much remains the same, even if the landscape of the city itself has changed . . . The limitations of [Babitz's] work, and of her perceptions, do not negate her literary importance. The world she renders for us is always worth dwelling in, even skeptically." —BuzzFeed
"What stands out about Babitz's writing is her voice: smart, unapologetic and knowing, like Dorothy Parker magically time traveling to the modern era . . . Rereading Babitz is a delicious, guilty pleasure." —Alta
"Babitz's writing is also like the jacaranda tree in glorious bloom—bewitching an entire city, but all too brief." —Los Angeles Review of Books
"This reissue of one of Eve Babitz's best collections is a doozy. If Grace Paley was the voice of the '60s and '70s, Babitz manages to be that voice for the '80s . . . With a keen eye and a rambunctious voice, Babitz tells the story of a generation's version of sex, drugs, rock and roll, and the recovery from it all. A fantastic and stirring collection, apt for our time's obsessions." —Read It Forward, A Favorite Read for April 2018
"The subject of these nine stories by Babitz (Sex and Rage) is Hollywood: brilliant and beautiful couples who somehow get along; charming yet moody men and their odd needs; and "Eve," the narrator, who cautiously reveals in herself the vices of a naughty but not really bad girl." —Publishers Weekly
"Babitz is an acquired taste: her slewing style, bad–girl postures, and sad–funny takes on hedonism can be deliciously shocking... Here, though, as the narrator of these nine story/essays approaches middle–age—after all the drugs, booze, groupie sex, and wild passionate flings—the sense of brakes applied turns Babitz's voice sage as well as outrageous...as dispensed as Babitz's people try to be, they never are far from their fears and insecurities—and her wisecracking, ain't–it–the–truth–honey voice is just about perfect in illuminating the fact...Babitz's best book yet." —Kirkus Reviews