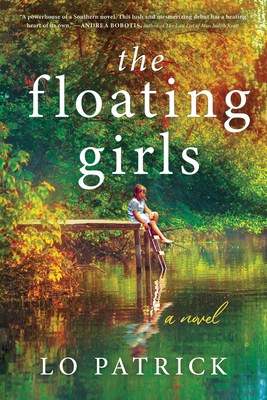 The Floating Girls: A Novel
Publication Date:
July 12th, 2022
Publisher:
Sourcebooks Landmark
Red Fern Booksellers
1 on hand, as of Dec 7 1:13pm
(Fiction - General)
On Our Shelves Now
Description
"A masterly achievement." – Publishers Weekly STARRED review
"Many readers are looking for the next Where the Crawdads Sing, and will find The Floating Girls…is a close cousin." – Augusta Chronicle
Fierce 12-year-old Kay can't ignore the problems surfacing in her troubled home—or the mysterious marsh outside. It will take all of her courage and perseverance to survive her family drama as their dark secrets come to life in the wake of a small-town murder.
One hot, sticky summer in Bledsoe, Georgia, twelve-year-old Kay Whitaker stumbles across a stilt house in a neighboring marsh and upon Andy Webber, a boy about her age. He and his father have recently moved back to Georgia from California, and rumors of the suspicious drowning death of Andy's mother years earlier have chased them there and back.
Kay is fascinated and enamored with Andy, and she doesn't listen when her father tells her to stay away from the Webbers. But when Kay's sister goes missing, the mystery of Mrs. Webber's death—and Kay's parents' potential role in it—comes to light. Kay and her brothers must navigate the layers of secrets that emerge in the course of the investigation as their family, and the world as they knew it, unravels around them.
At once wickedly funny and heartbreaking, perfect for fans of Kim Michele Richardson, The Floating Girls is a stunning southern mystery, a wonderfully atmospheric coming-of-age family drama told from the perspective of a fierce 12-year-old marsh girl—reminiscent of a modern-day Scout Finch—as she unravels the secrets that threaten her entire family.
Praise for The Floating Girls:
"A powerhouse of a Southern novel. At once a poignant coming-of-age tale, a murder mystery, and an evocative tribute to the marshlands of Georgia. Lo Patrick is a standout new Southern voice." —Andrea Bobotis, author of The Last List of Miss Judith Kratt
"Kay is the smartest, funniest, most curious young narrator I have come across in some time. Her voice stuck with me long after I finished reading. If I met Kay on the street, I'd beg her to be my best friend." —Tiffany Quay Tyson, award-winning author of The Past is Never
"A cracking story that unfolds in gorgeous prose in the stultifying heat of the American South." —Hayley Scrivenor, author of Dirt Creek
"Fans of Where the Crawdads Sing will love this immersive mystery set against the salty air of Georgia's marshes. In Patrick's atmospheric prose, the water and its characters come to life." —Lindsey Rogers Cook, author of Learning to Speak Southern
Praise for The Floating Girls: A Novel
"Superb debut...the crackling energy of Kay's narration—a winning mixture of insight and naiveté, humor and pathos, vulnerability and strength—provides a welcome counterbalance to the oppressive setting and the pain the characters try to suppress. It's a masterly achievement." — Publishers Weekly STARRED review
"Many readers are looking for the next Where the Crawdads Sing, and will find The Floating Girls…is a close cousin...it has its own unique charms, featuring a winning young protagonist that will remind readers of Scout in To Kill a Mockingbird." — Augusta Chronicle
"Readers will be unable to peel their eyes and hearts away from Lo Patrick's The Floating Girls as secrets are revealed in the span of a Georgia summer." — Deep South Magazine
"Don't sleep on Lo Patrick's powerful coming-of-age and family drama set in the humid backwaters of Georgia...The Floating Girls has been compared to To Kill a Mockingbird, thanks to its child narrator, exploration of heartbreaking family secrets, and highlighting of social issues." — Reader's Digest editor's pick
"[A] compelling mystery...Kay is the smartest, funniest, most curious young narrator I have come across in some time. Her voice stuck with me long after I finished reading." — Tiffany Quay Tyson, award-winning author of The Past is Never
"Fans of Where the Crawdads Sing will love this immersive mystery set against the salty air of Georgia's marshes. In Patrick's atmospheric prose, the water and its characters come to life" — Lindsey Rogers Cook, author of Learning to Speak Southern
"To read The Floating Girls is to feel a small-town slowness seep into your bones. The book's narrator, Kay Whitaker, is a stubborn young girl you'll never forget. A cracking story that unfolds in gorgeous prose in the stultifying heat of the American South." — Hayley Scrivenor, author of Dirt Creek
"The Floating Girls is a powerhouse of a Southern novel...this lush and mesmerizing debut has a beating heart of its own. Lo Patrick is a standout new Southern voice." — Andrea Bobotis, author of The Last List of Miss Judith Kratt