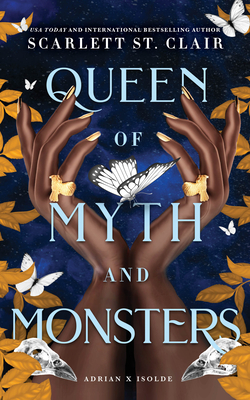 Queen of Myth and Monsters (Adrian X Isolde)
Publication Date:
December 20th, 2022
Usually Ships in 1 to 5 Days
Description
"I am of the House of Lara, daughter of Elvira of Nailani, sister of witches, and I have come to reclaim my crown."
Isolde, newly coronated queen, has finally found a king worthy of her in the vampire Adrian. But their love for each other has cost Isolde her father and her homeland. With two opposing goddesses playing mortals and vampires against one another, Isolde is uncertain who her allies are in the vampire stronghold of Revekka.
Now, as politics in the Red Palace grow more underhanded, inexplicable monster attacks plague the villages, and a deadly crimson mist threatens all of Cordova, Isolde must trust in the bond she's formed with Adrian, even as she learns troubling information about his complicated past.
The next book in the scorching, bingeable vampire fantasy series by USA Today and international bestselling author Scarlett St. Clair.
Praise for Queen of Myth and Monsters (Adrian X Isolde)
"Lively banter, bloody violence, and highly charged sex scenes…a page-turner." — Publishers Weekly
"Filled with equal parts lust, magic, and political intrigue, leaving readers hungry for more." — Library Journal