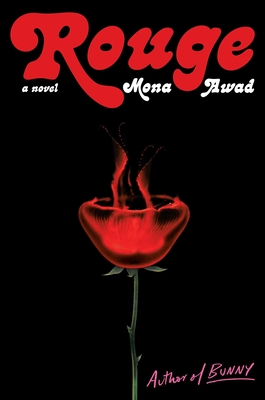 Rouge: A Novel
Publication Date:
September 12th, 2023
Publisher:
S&S/ Marysue Rucci Books
Red Fern Booksellers
3 on hand, as of Dec 7 2:12pm
(Fiction - Psychological Suspense)
On Our Shelves Now
We all have complicated relationships with family; this book holds a mirror up to a mother-daughter relationship. Obsessed with beauty, this spiral of grief wraps around your throat and you'll gasp for breath! So raw and superbly genius.
September 2023 Indie Next List
Description
National Bestseller
USA TODAY Bestseller
New York Times Editors' Choice
From the critically acclaimed author of Bunny comes a "Grimm Brothers fairy tale for the modern age" (Good Housekeeping) and "darkly funny horror novel" (NYLON) about a lonely young woman who's drawn to a cult-like spa in the wake of her mother's mysterious death. "Surreal, scary and deeply moving—like all the best fairy tales" (People).
A Most Anticipated Book of 2023 by Time, Vogue, The Guardian, Goodreads, Bustle, The Millions, LitHub, Tor, Good Housekeeping, and more!
For as long as she can remember, Belle has been insidiously obsessed with her skin and skincare videos. When her estranged mother Noelle mysteriously dies, Belle finds herself back in Southern California, dealing with her mother's considerable debts and grappling with lingering questions about her death. The stakes escalate when a strange woman in red appears at the funeral, offering a tantalizing clue about her mother's demise, followed by a cryptic video about a transformative spa experience. With the help of a pair of red shoes, Belle is lured into the barbed embrace of La Maison de Méduse, the same lavish, culty spa to which her mother was devoted. There, Belle discovers the frightening secret behind her (and her mother's) obsession with the mirror—and the great shimmering depths (and demons) that lurk on the other side of the glass.
Snow White meets Eyes Wide Shut in this surreal descent into the dark side of beauty, envy, grief, and the complicated love between mothers and daughters. With black humor and seductive horror, Rouge explores the cult-like nature of the beauty industry—as well as the danger of internalizing its pitiless gaze. Brimming with California sunshine and blood-red rose petals, Rouge holds up a warped mirror to our relationship with mortality, our collective fixation with the surface, and the wondrous, deep longing that might lie beneath.
Praise for Rouge: A Novel
"Rouge could have been a polemic against the beauty-industrial complex, but instead it delves fearlessly into trauma, internalized self-loathing and the dangers of falling for a movie star — in this case, one who visits through a magic mirror. At the core of it all, Awad finds an astonishing tenderness." —The Washington Post, "The 10 best science fiction and fantasy novels of 2023"
"Like her previous novels, Rouge starts somewhere quite familiar, then wanders deep into the woods, far off the path. If you look at a single scene, a single reference, you might know exactly whence it came—but the fullness and strangeness of what Awad creates with her familiar elements is uniquely surreal." 
—Tor
"Rouge plays with horror and humor in a surreal, gothic tale about a mother-daughter relationship that is also a biting satire on the beauty industry." 
—The Guardian, "Fall's Most Anticipated Reads"
"Mona Awad's seductive fourth novel looks at the complicated relationships between mothers, daughters, and their mirrors…[a] surreal gothic tale."
—Time, "36 Most Anticipated Books of Fall 2023"
"Surreal, scary and deeply moving—like all the best fairytales." —People Magazine
"Mona Awad dives into the twisted love between mothers and their daughters, grief, and the warped beauty industry, for a darkly funny horror novel that goes beyond skin deep."
—Nylon
"Weaving in allusions to famous fairy tales, Awad takes us on a journey through the darkest parts of the beauty industry and the standards that are set... If you like social commentary packaged as a deep dive into a creepy cult, complete with a questionable treatment plan, a fraught mother and daughter relationship, and a demon in the mirror wearing Tom Cruise's face, this book is for you."
—USA Today
 
"An edgy fable on the perils of our modern fascination with beauty."
—Vogue
"Tragic and funny at once, like the Brothers Grimm stories [Awad] grew up reading… the mood is baroque and unsettling, and the sentences pulse, too."
—New York Magazine
 
"A surrealist take on the myth of Demeter and Persephone…Rouge points to many discomforting truths about being a woman in the 21st century, which can sometimes feel an awful lot like gothic horror. Awad doesn't let us off the hook in our willingness to consume and be consumed, in our inability to see beyond our glass coffins."
—Megan O'Grady, The New York Times Book Review
"Awad's latest is a dreamy (or perhaps nightmarish) gothic fairy tale about a mother, a daughter, and their shared obsession with their own beauty. Like all of Awad's novels, it reels you in, shakes your brain until you're not sure what you're seeing, and then floats off cackling on a cloud of smoke. Metaphorically, that is. I'd forgive you for not being sure." —LitHub, "Most Anticipated Books of 2023"
"Surreal, archetypal, and totally hypnotic." —Bustle, "The 35 Best New Books of Fall 2023"
"Mona Awad, I will read everything you ever write. She is a writer of unbelievable talent." —Tor
"[A] hypnotic tour de force…Awad approaches the increasingly well-trod ground of sinister wellness gurus with aplomb, creating an atmosphere of creeping discomfort and surreality right from the start. This is the stuff of fairy tales—red shoes, ballrooms, mirrors, and thorns but also sincerity, poignancy, and terror." —Kirkus Reviews (starred review)
"At a time in history when beauty routines drain souls and time, Mona Awad has fashioned a smart, page-turning mystery about a young woman besotted by all things skincare. In elegant prose, Rouge digs through the tormented love that can both bind and estrange a mother and her daughter, and a body from a deeper self. Awad is one of those literary juggernauts to read every word of. Rouge is a triumph, deep and riveting, profound and terrifying. I couldn't put it down."
—Mary Karr, New York Times bestselling author of The Liar's Club and Cherry
"A brilliant, biting critique of western beauty standards as well as a soaring, phantasmagoric, Angela Carter-esque fairy tale about trauma and the loss of self. Rouge is deeply unsettling, funny, obsessive, and unlike anything I've read. A truly mesmerizing read."
—Paul Tremblay, author of The Cabin at the End of the World and A Head Full of Ghosts